Cover Stories:
Remembering desegregation during Black History Month
and
Churches give big to tsunami victims

INSIDE

So Divine
Divine Rhythm moves away from Momma and her thousands of rowdy teens to the Country Tonite Theatre.

Staff changes
The Rev. Laura Shearer joins the Pastoral Counseling Center, and beloved Bonnie Cox retires after 24 years.

Oh, roses!
Radford University's Wesley Foundation does something great for Valentine's Day – and for tsunami relief.


Looking for National News?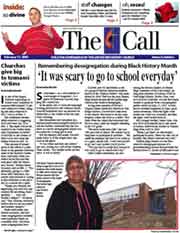 Bishop Swanson's Column

Eventuality

Job Opportunities


Unless otherwise noted, all articles written by Annette Spence Bender