Cover Story:
'This book has changed my life'
INSIDE

Emory & Henry
The Emory & Henry College Board of Trustees has unanimously elected Rosalind Reichard as 20th president of the college.

Lotsa feedback
Two readers write about last month's Annual Conference decisions in "Commentary." Plus: Three letters from our "C-Mail" box.

Fly me to Mississippi
The birds in D'Iberville will have new homes, thanks to a summer youth ministry at Church Street UMC.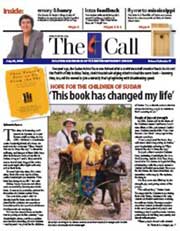 Bishop Swanson's Column

Eventuality

Job Opportunities


Unless otherwise noted, all articles written by Annette Spence