Cover Story:
Show me the money

INSIDE

At lunch with Joe
Remember the "Hams for the
Hungry" boy? He's now our CCYM president — for the second time.

Lighthouse news
Led by Rev. Richard Richter, a church plant in the Chattanooga District breaks ground for an unusual new building.

Look at them now
Whatever happened to that boy from Holston Home — or that man in Abingdon who makes prayer crosses from church bulletins?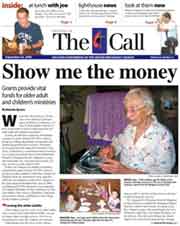 Bishop Swanson's Column

Eventuality

Job Opportunities


Unless otherwise noted, all articles written by Annette Spence