Cover Stories:
Remembering Bishop Allen


Fast Cars
Four Abingdon District churches serve fans at Bristol Motor Speedway.
Page 8

Election 2004
What's positive about our election process?
Page 4

Leading Man
Bishop Swanson speaks out on his background, what happened to the baby boomers, and homosexuality.
Page 4


Looking for National News Online?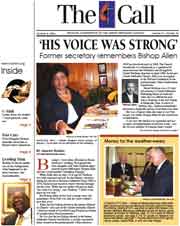 Bishop Swanson's Column

Job Opportunities

C-mail

Unless otherwise noted, all articles written by Annette Spence Bender