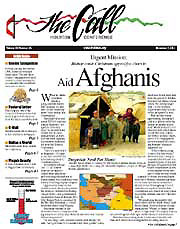 ---
Cover Story
Urgent Mission:
Bishop sends Christmas appeal for shoes to Aid Afghanis
When he thinks of Afghan children going cold this winter, with no shoes on their feet, "it just breaks my heart," says Bishop Ray Chamberlain.

The plight of an estimated 250,000 cold and hungry Afghanis, "refugees in their own land," so moved Chamberlain that he didn't hesitate when an international relief organization recently requested aid from the Holston Conference.

"Here is a need that's so desperate – it's right in our face. And we can do something about it," Chamberlain said.

So between now and Dec. 13, all Holston churches are urged to collect clean, used shoes and boots in good condition or donate money for a conference-wide mission benefiting Afghan refugees. Opportunely timed for the Advent season, the project partners the Holston Conference with Stop Hunger Now, a non-governmental organization based in Raleigh, N.C. Stop Hunger Now is organized by the Rev. Ray Buchanan, a United Methodist pastor from Virginia.

Buchanan returned in late November from a 16-day fact-finding mission in Central Asia. What he saw there was "almost beyond imagination."

"In one camp I saw a hillside covered with humps," he said. "As I got closer to it I realized they were graves." Later, Buchanan would learn they were the graves of children who died last winter of starvation.

No child younger than 2 in the northern Afghanistan camp had survived, refugees told him. With another winter approaching, Buchanan's goal is to deliver aid to the people as quickly as possible.

While Holston's 935 churches will collect shoes for the war-torn country, the North Carolina Conference's 825 congregations are simultaneously collecting blankets. Money is requested, too. "Fifty dollars is going to save a life this winter," Buchanan said. Living in makeshift shelters and brutalized by years of war and drought, refugees must bear winter temperatures as low as ten degrees below zero and 60-mile-an-hour winds.

Appeals for shoes, boots and funds went out to Holston churches and leaders by email and district newsletters shortly before Thanksgiving. Church members are urged to involve their communities and collect as many shoes as possible between now and Thursday, Dec. 13.

"We emphasize the need for children's shoes and for sturdy shoes," said Kevin Slimp, Holston director of communications. "Please, no ladies' dress shoes or high heels." It's helpful if shoes are paired together with tape, rubber bands or tied shoelaces.

Members should bring shoes to their own churches, and then each church will be responsible for taking them to a central district location on Dec. 14. (Visit www.holston.org or call 865-690-4080 or your district office for drop-off points.)

On Dec. 15, conference staff will transport shoes to locations where Stop Hunger Now trucks will pick them up and begin shipment to Central Asia. Supplies should arrive in Afghanistan by February, Buchanan said.

Members choosing to donate money instead of shoes should make checks out to their own churches or to the Holston Conference with "Advance Special #982795-6" designated on the memo line. (Checks may be mailed directly to Holston Conference, P.O. Box 2506, Johnson City, TN 37605.)

Bishop Chamberlain said he hopes Holston members will be "both generous and creative in asking people outside of their congregations to participate in this appeal." TV stations and newspapers began promoting the mission in late November.

Buchanan expressed gratitude to the Holston Conference for its willingness to help. "This is what Christmas is all about – when a church can look beyond the stained glass and reach out to people in need," he said. "This is discipleship in action."

For more information about Stop Hunger Now, visit www.stophungernow.org or call (919) 839-0689. For more information about Holston's shoe drive, call (865) 690-4080 and ask for Anne Travis or Kevin Slimp.

---
December 7, 2001 Issue
Cookie Evangelism
Nobody can say that Asbury UMC comes up with halfbaked ideas. The east Knox County congregation recently created a cookie ministry for a community that could have been hard to reach. Page 8

Pastoral Letter
The complete text of the Council of Bishops letter that recently provoked reactions from the media and Methodists. Page 3

C-Mail
Readers speak out on changes in the conference newspaper.
Page 3

Nation & World
Methodist news from outside the conference.
Pages 6-7

Pisgah Beauty
A local columnist pays a visit to Pisgah UMC in Tazewell.
Pages 4-5

Bishop's Perspective

Unless otherwise noted, all articles written by Annette Spence Bender
Accessing PDF documents on this site: