Cover Story:
Christmas missions bloom at Farragut

INSIDE

Home sweet home
Homer Marcum writes of his three favorite Christmas memories at Holston Home for Children.

Page turners
Who's singing "Sweet Little Jesus Boy" on Christmas eve?

Best dressed
A sewing volunteer in Big Stone Gap District dresses up donated dolls with handmade outfits.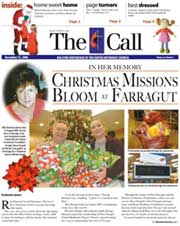 Bishop Swanson's Column

Eventuality

Job Opportunities


Unless otherwise noted, all articles written by Annette Spence