Cover - Looking Forward

and...Looking back:
It was about war, peace & Wesley

What will we remember about 2003? In Holston Conference, we celebrated a new Hispanic church building, tussled over a direct-billing proposal, and lit candles for peace. In the denomination, we celebrated John Wesley's 300th birthday, agonized over turmoil in Liberia, and lit candles for peace.

In this issue, The Call reviews the past year as it happened in Holston on pages 4, 5, and 8.

On pages 6-7, United Methodist News Service provides its annual wrap-up of the denomination's milestones.

We look forward to serving you in the new year.
– Annette Spence Bender, Editor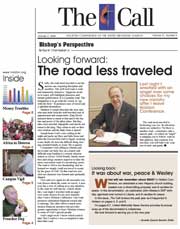 National & World News


C-Mail
Job Opportunities


Unless otherwise noted, all articles written by Annette Spence Bender