Cover Story:
Fallen War Hero Was Holston Son

INSIDE

Come to the gate
What happens when a preacher asks, "This week, who will be laid at our gate, and how will we respond?"

Raising Jazmyne
A single, teenage mom gets a fresh start with her daughter at Holston United Methodist Home for Children.

Cookie outreach
Two churches - one in Knoxville District, the other in Tazewell District - serve up Christmas love with chocolate chips.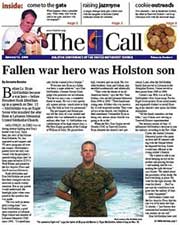 Bishop Swanson's Column

Eventuality

Job Opportunities


Unless otherwise noted, all articles written by Annette Spence Bender