Cover Stories: Bishop names new district superintendent
AND
NCD - 32 churches selected for first round
INSIDE

Raising Brazil

Through its annual missions offering, Holston will aim to raise $100,000 for ministries in Brazil.

Newspaper will return in april
The Holston Conference Center will begin moving from Knoxville to Alcoa, Tenn., on Friday, March 9. The phone system is expected be down for part of March 9, and the next edition of The Call will be delayed until April 6. Other delays in conference services may also occur. Staff members will be working in their new offices on Monday, March 12. The new address, effective March 12, is: P.O. Box 850, Alcoa, TN 37701-0850. Conference phone and fax numbers will remain the same. For directions to the new site, visit www.newlocation.holston.org.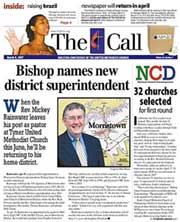 Bishop Swanson's Column

Eventuality

Job Opportunities


Unless otherwise noted, all articles written by Annette Spence