bishop's perspective:
Laity: They're good for nothing

Well, at last I have said it. Let the truth be known: Laity are good for nothing! At least, that's what I once heard someone say: "The clergy are paid to be good, while the laity are good for nothing."

Now, the role and function of the clergy is specialized but not superior to the role and function of laity. We all are called. We are all baptized into one body. We are all disciples of Jesus Christ.

Clergy are set aside by a calling and then trained to fulfill certain roles, functions and tasks. I don't think my medical doctor is of greater value than me, but I sure pray he knows something more about my body than I do. Clergy are expected to be equipped to help care for our souls. They should be able to interpret doctrine through significant study of church history, scriptures and polity.

Yet, laity certainly are not considered to be second class. The distinction of clergy as professional and laity as amateurs has always bothered me, until I learned that the Latin root of amateur is doing something "for love."

So I want to reclaim for clergy the understanding of amateur. I want us to do ministry "for love" more than anything else.

We struggle as a society with professional athletes. Sometimes they seem to lose sight of the sheer joy of sports participation. How well I remember the innocent fun of backyard games as a young boy. Laity, too, can become lay professionals and as jaded as professional clergy.

My prayer is that we will all recapture the true meaning of amateurism and doing God's work for love. To be "good for nothing" is nothing more than pleasing God.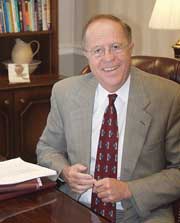 Bishop Ray W. Chamberlain
Resident Bishop
Bishop's Perspective