Cover Stories:
Love at Lake Junaluska
and
Morris finishes hike
INSIDE

Camp fire
Charles Maynard writes of the spiritual strength of Holston's summer camping staff.

It's fixed
Announcing the 2005-2006 ministerial appointments, fixed at Annual Conference on June 15.

I do, again
A Morristown District preacher weds three generations in one family.


Looking for National News?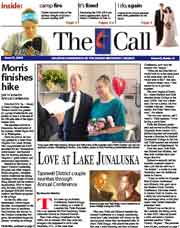 Bishop Swanson's Column

Eventuality

Job Opportunities


Unless otherwise noted, all articles written by Annette Spence Bender