Cover - Helping Train Derailment Evacuees

District Roundup
Two Abingdon District churches are joining to fight hunger in Smyth County, Va.
Page 8

Budget News
Meeting with ministry teams and staff members earlier this month, Holston leaders said they are taking steps to offset a potential budget shortfall.
Page 3

State Lottery
"It's just not worth it," says a Chattanooga minister.
Page 3

He's Back
Bishop Ray Chamberlain writes about his visit to Cuba in this issue's "Perspective."
Page 2

Calendar Orders
It's time to order your 2003 Holston Conference calendar for $6.50 plus shipping. Order forms are available in district offices, at www.holston.org, or by calling the communications office at (865) 690-4080.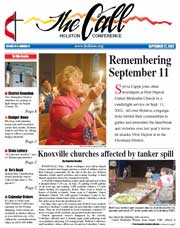 National & World News



Unless otherwise noted, all articles written by Annette Spence Bender