Cover Stories:
Trading Spaces
and
Presidential Race


Thanks, Holston
Supplies are dispatched to hurricane victims in North Carolina and Florida.
Page 3

Tacos Tonight?
Before you bite down on a Mt. Olive pickle or a Taco Bell burrito, there's something you should know. Read about Bishop Swanson's role in disputes.
Page 4

Apples & Pizza
Continuing the food theme ... Read how a Big Stone Gap District youth group served St. Andrews and Chattanooga District children served Holston Home.
Page 8


Looking for National News Online?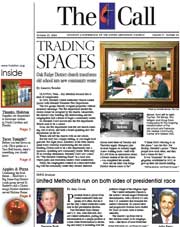 Bishop Swanson's Column

Job Opportunities

C-mail

Unless otherwise noted, all articles written by Annette Spence Bender