Cover Stories:
Do we really have open hearts?
and
College enrollment roller coaster


Hot Stuff
How many "Sons of Moses Chili Crusaders" does it take to win a contest fundraiser for Camp Wesley Woods?
Page 8

Battling Suicide
What to look for, what to say. A United Methodist News Service feature.
Page 6

Water Washed
Highlights of last month's Regional Clergy Conferences with Gayle Felton. Plus, news of the Holston Conference Foundation's 25th birthday celebration.
Page 4


Looking for National News Online?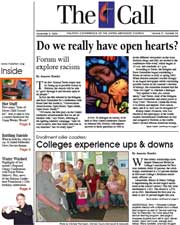 Bishop Swanson's Column

Job Opportunities

C-mail

Unless otherwise noted, all articles written by Annette Spence Bender