Cover Stories:
Judicial Court decisions stir up strong reactions
and
Rules against Beth Stroud
and
Holston pastors respond to Jacksboro shootings

INSIDE

Student Reading List
Commemorating United Methodist Student Day on Nov. 27.

12 churches to watch
A new series. District superintendents clue us into the up-and-comers.

Thanksgiving blessings
Soddy-Daisy Food Bank spreads Thanksgiving blessings all year long.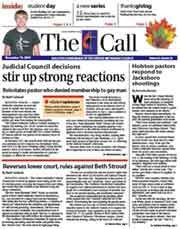 Bishop Swanson's Column

Eventuality

Job Opportunities


Unless otherwise noted, all articles written by Annette Spence Bender