Cover Story:
A Thanksgiving Testimony


INSIDE

Racism Forum
Holston members are encouraged to attend a conference-wide forum at Gray United Methodist Church on Nov. 20.
Page 2

A Day in the Life
Holston's Church and Community Workers are daily, quietly serving the needy in both urban and rural areas.
Page 4

Mission Update
The conference mission team arrives in India, while supplies donated by churches last summer arrive in Africa.
Page 3


Tennesseeans are facing a serious health care and fiscal crisis that will have signifi- cant repercussions for the poor and disad- vantaged in the state. Visit www.holston.org/ tenncarecrisis to find links for additional infor- mation on this subject, as well as some ways to express your opinion.


Looking for National News Online?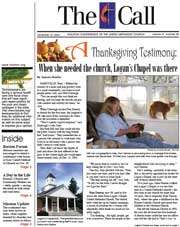 Bishop Swanson's Column

Job Opportunities

C-mail

Unless otherwise noted, all articles written by Annette Spence Bender