Cover Stories:
Morgan-Scott Project Pleads for help
and
Bishop meets with governor

INSIDE

Chili with a cause
Four prize-winning recipes from Camp Wesley Woods' fall fundraiser.

Letters from camp
More about Wesley Woods: An "evergreen" program keeps the camp busy all year round.

Love quilts
A Tazewell District congregation creates quilts to help keep the needy warm.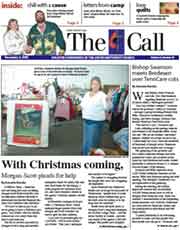 Bishop Swanson's Column

Eventuality

Job Opportunities


Unless otherwise noted, all articles written by Annette Spence Bender