Cover Stories:
Tax codes are moral issue
and
Students help build chapel in Congo

INSIDE

Read Your Vows
Bishop James Swanson introduces a new series, "The Meaning of Membership," in the upcoming Jan. 14 issue. Learn more by reading his "Wings" column in this edition.
Page 2

Tea & Cookies
Lynn Hutton visits with Holston's oldest appointed clergy member, George Armbrister.
Page 3

C-Mail
More on racism: Letters from readers in Chattanooga and Knoxville Districts.
Page 2


Looking for National News Online?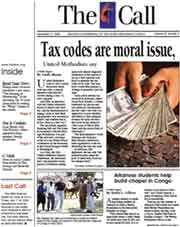 Bishop Swanson's Column

Job Opportunities

Cmail

Unless otherwise noted, all articles written by Annette Spence Bender