Cover Stories:
Tsunami Relief
and
Holston groups share so others may attend Resurrection, Divine Rhythm

INSIDE

Tough choices (District Roundup)
With the help of personal shoppers, Bethlehem Center youth learn about money management.

Why did you choose this church?
Once again, we ask new members in six churches why they came – and why they stayed.


Looking for National News Online?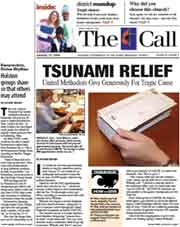 Bishop Swanson's Column

NEW Eventuality

Job Opportunities

Cmail

Unless otherwise noted, all articles written by Annette Spence Bender