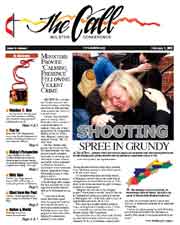 ---
Cover Story
MINISTERS PROVIDE 'CALMING PRESENCE' FOLLOWING VIOLENT CRIME
GRUNDY, Va. – At least two Holston ministers were among the clergy comforting survivors of a fatal shooting at the Appalachian School of Law last month.
The Rev. Paul McNalley, pastor at Grundy United Methodist Church, rushed to comfort the family of Anthony Sutin, one of three people killed by a disgruntled student on Jan. 16. Sutin's wife, Margaret Lawton, has attended Grundy UMC for three years.

The Rev. Dennie Humphreys, Big Stone Gap District superintendent, met with the law school's president hours after the shootings and also helped counsel students and faculty. School president Lu Ellsworth attends an unchartered United Methodist church, Appalachian Prayer Fellowship, located in Humphrey's district.

McNalley said he learned of the shootings after a neighbor with a scanner left a message that he should immediately go to the hospital on Jan. 16.

"I saw cars at the law school but I didn't know what was going on," said the Buchanan Parish pastor. At Buchanan General Hospital, McNalley learned that three people had been killed, three injured, by a student suspended for poor grades. Among the dead was the college dean, Anthony Sutin. McNalley was told to meet Sutin's widow at the law school library.

For the next several days, McNalley stayed by Margaret Lawton's side as she made funeral arrangements, accommodated as many as 15 relatives in her home, and faced the grief of losing a husband in a violent crime.

"Margaret has been one of the strongest people I've ever seen in my life," he said. She and her husband left careers as government lawyers in Washington, D.C., when they came to teach at Appalachian School of Law in 1997.

The couple had recently adopted a child in China, arriving back in Grundy on Jan. 2. Clara Li is 18 months old. An older son, Henry, 4, attends Grundy UMC's preschool.

Because Sutin was of the Jewish faith, McNalley asked Rabbi Stanley Funston from nearby Bluefield, W.Va., to co-officiate a memorial service with him at Grundy Senior High School. The Jan. 20 service was attended by an estimated 700 people.

Lawton is an Episcopalian by faith, McNalley said, but attends Grundy UMC because it is nearby. "Our church is two doors down from her house."

Congregation members are providing meals at the Lawton home but otherwise have been waiting patiently for the media-infused commotion to fade, said McNalley, who also pastors King Mountain and Garden United Methodist churches. "They know and understand that after life gets back to normal, [Margaret's] going to need us here."

ÔVery saddened' The Rev. Dennie Humphreys had just finished lunch and was on his way back to the Big Stone Gap district office when he heard about the shootings. Although Grundy is located in the Tazewell District, Humphreys knows the president of Appalachian Law School because Lu Ellsworth lives in and attends church in Wise, Va.

Humphreys immediately tried to reach Ellsworth at the school but was "unable to get through." Later, Ellsworth's administrative assistant called Humphreys to let him know the college president was being flown by a state helicopter from Richmond, Va., back to Grundy. Ellsworth had been visiting the legislature with the Buchanan County delegation that day.

Humphreys, along with David Gibson, a candidate for ministry who had worked with Ellsworth's church, joined the president at the school that night. Humphreys returned to the school on Jan. 22, providing support for Ellsworth, his staff and 140 students on the day before classes resumed.

"[Ellsworth] is obviously very saddened, but also very determined to move forward," Humphreys said.

In addition to 42-year-old Sutin, professor Thomas Blackwell, 41, and student Angela Dales, 33, were killed in the renovated junior-high school building near downtown Grundy. The three wounded students are expected to fully recover. The student accused of the shootings, Nigerian-born Peter Odighizuwa, 42, is being held in New River Valley Jail pending a March preliminary hearing.

Both Humphries and Tazewell District Superintendent Gene Lovell praised McNalley for his service following the tragedy. A former nursing home administrator, McNalley entered full-time ministry in 1998.

"His nursing home experience was wonderful preparation for dealing with that crisis," said the Rev. Lovell, who was attending an out-of-town meeting when the shootings occurred. "I'm really proud of Paul. He's done well in a difficult situation."

"Paul's presence had a very calming effect on the people," Humphries said. Clergy from other denominations also were "remarkable" in providing support to the community during memorial services, candlelight vigils and grief counseling, he added. "It made me feel good to be in the ministry."
---
February 1, 2002 Issue
Rhythm & Res
Two big events. Two big weekends. The conference scored big with retreats for young people in Gatlinburg last month. Pages 4 & 5

You Go
More than 1,185 clergywomen from across the globe gathered last month in San Diego to rediscover and reclaim the Sabbath. Page 6

Bishop's Perspective
"I am so thankful to be a part of a denomination that accepts and affirms women in ordained ministry and insists that ethnicity is not a barrier in appointment making – nor is age." Page 2
Wild Ride
The Rev. Bob Tripp, pastor at Second UMC in Knoxville, is running for governor of Tennessee. Page 8

Blast from the Past
The Rev. David Graybeal has just spent 13 days in a Morristown hotel. Why? Page 8

Nation & World
Methodist news from outside the conference Pages 6 & 7

Unless otherwise noted, all articles written by Annette Spence Bender
The Call Available in Bulk Quantities

We've hoped for some time to offer subscriptions to The Call, Holston's newspaper, in bulk quantities for churches who wish to place them in the Narthex, bulletins, Sunday School classes, etc. Subscriptions are available in quantities of 50, 100 and 200 copies at a significantly reduced rate. For more information, please contact Annette Bender, editor of The Call, at
TheCall@holston.org.

--------------------

Accessing PDF documents on this site:


1. You must have a newer version of the free Adobe Acrobat® Reader to open and print these files.

2. Download the file to your computer by right clicking on the PDF link. You should have no problem opening the file after downloading it this way.

3. Click on the print icon. Select "print as image." Click on "Expand pages to paper size" if necessary. Click "OK" to print.

4. Adobe makes available "Printing Tips" for troubleshooting problems.