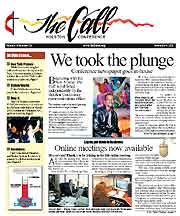 ---
What Is The Sunday Call?
Holston Conference churches now have access to an exciting new tool which should be very popular among participating churches. The Sunday Call is online at http://www.holston.org/thesundaycall.html for churches to download, print and insert into their Sunday bulletins.

Since less than five percent of local church members receive Holston's official publication, The Call, the Conference Communications Team has been studying methods to spread news to a larger population.

The Sunday Call is an attractive 4.25 x 5.5 inch (half letter-size page) document which contains news of general interest to local churches. This size fits neatly into most church bulletins. Persons will be able to download the publication in either of two formats. The first format, a PDF file, can be opened using an Acrobat Reader (which is installed on most newer computers). Persons can download a free copy of the Acrobat Reader (see top of this page). This version will be the preferable option, contain both articles and photos. In style, it will have a similar look to The Call.

Persons who don't have access to an Acrobat Reader can download the Microsoft Word version of The Sunday Call. It will have less graphic elements (pictures, etc.), but contain the same text as the PDF version of the publication.

The Sunday Call is designed "two up," which means churches can print the file on their printers, then copy the pages (front and back) on standard letter-size paper. These pages can be cut in half to get two copies from each sheet of paper.

Each Wednesday a new edition of The Sunday Call will be available online. There is no cost to any Holston Conference church to reprint The Sunday Call. For more information, contact Donna Hankins, Holston webmaster, at donnahankins@holston.org.

---
November 5, 2001 Issue
New York Prayers :
While Americans struggled with shock and fear the day after the Sept. 11 terrorist attacks, a Holston minister drove to New York to offer comfort to a fallen city. Page 8

Nation/World:
United Methodist news from outside the conference. Pages 6-7

Stop It:
Stop All Violence Everywhere (SAVE), the conference's youth seminar, has been rescheduled for March 2002. Destination: Washington, D.C. and New York City. Page 8

Roadshow:
The Connectional Ministries and Wesley Institute Roadshow is coming to a district meeting near you. Pages 4-5


Unless otherwise noted, all articles written by Annette Spence Bender
Accessing PDF documents on this site: