bishop's perspective:
Let the church be the church, not a crowd of Pharisees

My dear sisters and brothers,

The stakes are sky high! Discord is rampant. Violence abounds. War is threatened. More and more young adults turn away from the church every year. And within the church we waste energy fighting over music and worship styles, turf issues and opinions. If we are not careful, we will be distracted from Jesus' mandate to make disciples.

I appeal to you with a "Perspective for Mission" I recently offered our Discipleship Team. The local congregation is the primary arena for fulfilling Christ's mission as understood in Methodism and within the Holston Conference. To fulfill this mission, I believe:

Our conference priority, "By All Means Win Some," is God's inspired vision for us. We must claim it.


No congregation is too small to reflect the love and light of Jesus Christ. Every congregation, regardless of size, is destined by God to discover its unique means to "win some" to Jesus Christ.


Every congregation can find at least one child to embrace and nourish in the faith. Each worshipping community can find and serve those who need Christ most.


Most people will be led to God through a relationship with a friend, pastor, or some other caring individual.


The greatest entrée we have with most individuals is their yearning for peace in their lives.


People are hungry for spirituality, not for institutional religion.


Society increasingly views the church as an institution rather than a vibrant community of grace-filled believers. We offer "stones" when they are starved for "bread."


Congregations should educate their people in Wesleyan theology, but also in new ways of worship, partnering, networking and evangelism.


Each church must provide spiritually sound, concrete challenges while engaging in deeds of mercy. Every congregation ought to be a "saving and serving" congregation.


We must help our people become praying people. Praying people become spiritually motivated people – and spiritually motivated people will find the means to "win some."


We should challenge our people to become generous and sacrificial. Our checkbooks say more about our discipleship than words.


A thousand things and temptations appear legitimate while distracting us from our priority.


The God who is for us and with us is greater than all the forces of hell.

The banquet table of the Lord is open for all to come and feast – regardless if they think, look, believe, dress, or worship like we do. It is God's table and God determines the guest list; we have not been appointed as doorkeepers. Let the church be the church, not a crowd of Pharisees.

Grace and peace to you in all the Holston Conference churches.

top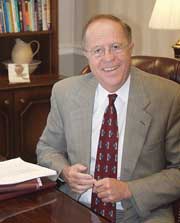 Bishop Ray W. Chamberlain
Resident Bishop
Cover Story
Have a Heart

and Hiwassee President

Digital Door
A.C. Deadlines

C-Mail

New Counselor

Shuttle Tragedy

National & World News