Cover Stories:
Convocation 2005 report

One Great Hour: One great ministry

Church leaders from 18 states gather in Knoxville for training

INSIDE

My hero
Two sisters from First Morristown United Methodist Church share a story of love and heroism.
Page 5

Clean water
How a Holston Conference Foundation
gift helped provide three new wells in Liberia.
Page 3

Snow blossoms
A new book tells the story of four elderly members of Petros United Methodist Church.
Page 8


Looking for National News?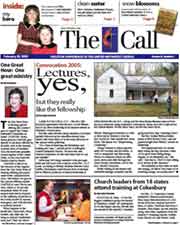 Bishop Swanson's Column

Eventuality

Job Opportunities


Unless otherwise noted, all articles written by Annette Spence Bender