Cover Story:
Computer-less churches: New ministry brings pastors up to speed

INSIDE

With open arms
A Maryville congregation bonds with an Iraqi girl who traveled to Tennessee for spina bifida surgery.

m&m ministry
A Kingsport church gets a good idea from a Chattanooga church — and the ending is sweet.

C-mail
Complete text of letters which were limited to 150 words in the printed edition.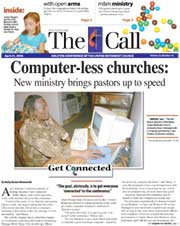 Bishop Swanson's Column

Eventuality

Job Opportunities


Unless otherwise noted, all articles written by Annette Spence Bender