Cover Stories:
Kitchen Cabinet

Thirteen ministries receive Change for Children grants

INSIDE

Who's cooking?
The new chef at Cokesbury Center in Knoxville has a Holston background in three districts.

Good ministry
A trio of stories to warm your heart and, hopefully, to put a fire in your belly.

Boots for camp
A Cleveland District couple makes a sacrifice for the kids at Camp Lookout.


Looking for National News?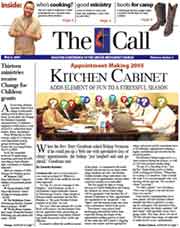 Bishop Swanson's Column

Eventuality

Job Opportunities

C-Mail

Unless otherwise noted, all articles written by Annette Spence Bender