Cover Stories:
Under the age of 35
and
Moving right along

INSIDE

Will power
At age 24, the Rev. Will Shelton is headed to his first appointment at a five-point charge in Tazewell District. What book will be lying on his nightstand?

Start packing
Announcing the 2006-2007 Holston ministerial appointments, "fixed" at Annual Conference on June 14.

I'm so tired
A Knoxville District congregation is shocked to find more than a hundred old tires dumped on its cherished cemetery grounds.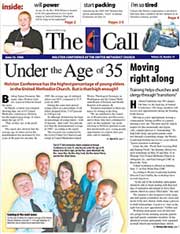 Bishop Swanson's Column

Eventuality

Job Opportunities


Unless otherwise noted, all articles written by Annette Spence