Cover Stories:
The relief rush is on

INSIDE

Secret visitor
During Open House Month, a Cleveland District church rasies the bar on offering warmth and hospitality.

Lost boys
A book, read over the Fourth of July holiday, fires a new passion for ministry.

Fan ministry
Children in Abingdon District deliver fans to the sick and elderly.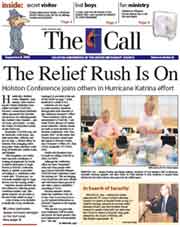 Bishop Swanson's Column

Eventuality

Job Opportunities


Unless otherwise noted, all articles written by Annette Spence Bender