Cover Stories:
New insurance plan for retirees cancelled
and
One day after Bishop's visit, Greeneville church burns
INSIDE

Joyful!
It's time for another edition of Be! - the special publication from Holston's Connectional Ministries.

NCD
Natural Church Development

Clergy gathering
The Rev. Greg Jones of Duke Divinity School is a speaker at last month's Clergy Gatherings.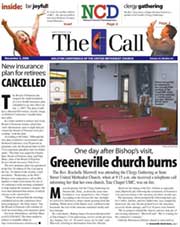 Bishop Swanson's Column

Eventuality

Job Opportunities


Unless otherwise noted, all articles written by Annette Spence