bishop's perspective:
Feed them & they will come

There is a place named Lake Junaluska that is home to numerous ducks, swans and Canadian geese. Scores of people come to the lakeside to observe these wonderful creatures swimming and waddling and seeking food.

An old codger comes to the water every day in his beat-up old vehicle (that is, preowned, mature auto). I watch him take a couple of bucket loads of food for the hungry animals. What fascinates me is his call to them. "Come and get it . . . come and get it." And the ducks and the swans and Canadian geese fly, swim, waddle, and run to the food.

Several recurring thoughts inspire and trouble me as I watch this morning ritual:
Would the birds keep responding to his call if he never offered food?

Why is it that hardy Canadian geese chase off the hungry little ducks?

If the preacher offers authentic bread (food for the soul), will hungry people come?

When spiritually starved people arrive at our churches, will some mean-spirited people, thinking the church (and food) are just for them, chase the others off?

If we feed them, will they come? If they come, will they be welcomed? I'm mulling over this – and sometimes rejoice and sometimes grieve.

Gratitude & challenge: I thank God the people of our Holston Conference churches are responding more generously to their "Fair Share" commitment compared to last year. This year, our conference's wide-reaching ministries are completely dependent on apportionment receipts. In prior years, income from interest earnings provided supplemental funds to our Fair Share.

Because of the loss of interest earnings, I challenge every church to increase its giving to Fair Share. If we give at the 100 percent level, crucial monies for ministries with prisoners, children, new churches, youth and other groups will be fully funded.

I urge you to rise to the challenge to fully fund your Fair Share commitment. Ultimately, it is not about money – it is about significant ministries.

top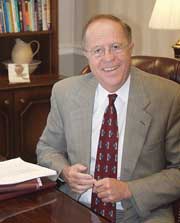 Bishop Ray W. Chamberlain
Resident Bishop
Cover Stories
Organ Donations
and
Minister Discusses Same-Sex Marriage

Finding Strength

Job Shop

Prayer Encounter

Mystery Box

National & World News