Cover Stories:
Racism forum report
and
Good things from Jubilee Project


INSIDE

A New Bookstore
The conference's second Cokesbury Bookstore opens in Johnson City with a stream of local customers.
Page 7

3 Ministry Ideas
Phone cards, computers and cars – is there something here for your church?
Page 4

C-Mail
Readers write about racism and "left-wing political propaganda."
Page 2

Crisis in Sudan
By mid-December, UMCOR will extend its efforts to help the violence-torn Darfur section of Sudan.
Page 6


Looking for National News Online?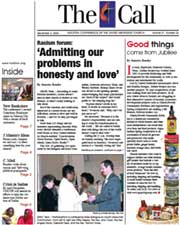 Bishop Swanson's Column

Job Opportunities



Unless otherwise noted, all articles written by Annette Spence Bender