Cover Stories:
Duke couple will lead clergy gatherings
and
Sex ethics in September
INSIDE

Ladies in hats
Showing support for a member undergoing chemotherapy, women at this Tazewell District church don their Sunday hats.

City & mountain
These two stories represent the rich — and varied — opportunities for ministry here in Holston Conference.

Bowled over
A Knoxville District preacher gets a lesson on cynicism — and a bowl made from the wood of a Bradford pear tree.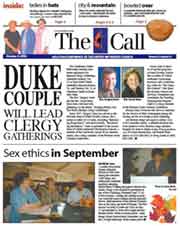 Bishop Swanson's Column

Eventuality

Job Opportunities


Unless otherwise noted, all articles written by Annette Spence