Cover - Organ Donations
and Minister Discusses Same-Sex Marriage

Finding Strength
A reporter's visit with the people attending Holston's camp for HIV/AIDS victims.
Page 4

Job Shop
Several opportunities for employment.
Page 3

Prayer Encounter
Bishop Richard Looney leads a "Responding to God" encounter, Nov. 10 at Cokesbury Center.
Page 2

Mystery Box
An Asbury Theological Seminary professor is in the middle of a whirlwind dating back to A.D. 63.
Page 6

Late News
As we were going to press, Holston Conference staff members received word that Dr. Russell T. Gunsalus, Martha Chamberlain's father, died at midnight on Oct. 30. For more information, see page 2.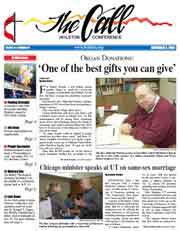 National & World News



Unless otherwise noted, all articles written by Annette Spence Bender