Cover - Special Offering for Education

also

Super Sundays
Sunday school attendance soaring for churches using Workshop Rotation Model.
Page 4

Editor's Note
The Call is undergoing a redesign after winning the denomination's highest award for newspapers.
Page 2

It's Rich
According to Bishop Ray Chamberlain, his father-in-law's estate is valued at millions.
Page 2

District Roundup
Cherokee UMCÕs new building is five times bigger than the current facility and rests on 18 1/2 acres of land.
Page 8

Give Thanks
Happy Thanksgiving on Nov. 28. First Sunday of Advent is Dec.1.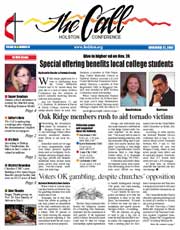 National & World News



Unless otherwise noted, all articles written by Annette Spence Bender