Cover - Only 142 days 'til Annual Conference
and Wesley House searches for new leader

Danny's Race
Injured in an Emory & Henry College football scrimmage, Danny Carter fights to walk again.
Page 8

Cloning Scandal
"We may be in a second Garden of Eden, tempted to partake of the forbidden fruit of human engineering," says Bishop Ray Chamberlain.
Page 2

Coming 'Round
The Rev. Stephen Yeaney is the modern equivalent of the 18th- and 19thcentury circuit rider.
Page 4

Reading List
What books are lying on the nightstands of these Holston ministers?
Page 3

Thumbs Up?
Or thumbs down? Let us know what you think about our new design. Write "C-Mail," thecall@holston.org or P.O. Box 32939, Knoxville, TN 37930-2939.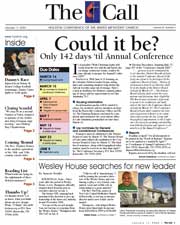 National & World News



Unless otherwise noted, all articles written by Annette Spence Bender