Cover Stories:
Resurrection returns to Gatlinburg
and
$1.8 million shortfall

INSIDE

Campus ministry
Three colleges, three students. Part two of our Campus Ministry series

June is soon
Here's what you need to know now about preparing for Annual Conference in June.

Give me a sign
An Abingdon District church figures out a way to reach out to Interstate travelers.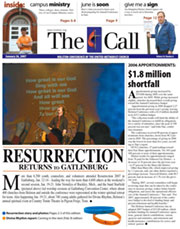 Bishop Swanson's Column

Eventuality

Job Opportunities


Unless otherwise noted, all articles written by Annette Spence