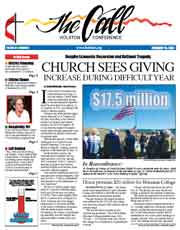 ---
Cover Story
Despite Economic Recession and National Tragedy,
CHURCH SEES GIVING INCREASE DURING DIFFICULT YEAR
By United Methodist News Service
In the face of a recession and events related to the Sept. 11 terrorist attacks, United Methodists increased their giving to the denomination's general funds by more than $2.4 million, or 2.1 percent, in 2001, according to the church's finance agency.

Giving to the seven general apportioned funds hit $114.7 million for the year, according to the General Council on Finance and Administration (GCFA) in Evanston, Ill.

Local churches support the apportioned funds through payments to the denomination's annual conferences, or regional units.

Beyond that amount, United Methodists gave $17.5 million to the church's ongoing "Love in the Midst of Tragedy" offering, made in response to the aftermath of Sept. 11.

Sandra Kelley Lackore, the denomination's treasurer and top staff executive of GCFA, said she was "overjoyed" at the 2.1 percent increase in general fund income, achieved despite an economic recession and a national tragedy.

"Our annual conferences and local churches have worked diligently," she said on Feb. 1. "This is a remarkable demonstration of the faithfulness of our connection."

The $114.7 million figure represents 90.1 percent of the denomination's goal for the year, according to GCFA. That's down slightly from the 91.1 percent level of support for 2000. However, the 2001 budget represented a 4.4 percent increase to the annual conferences compared with the previous year. General Conference, the church's top lawmaking assembly, sets the budgets and increases when it meets every four years.

The 4.4 percent represents the biggest yearly increase for the 2001-2004 quadrennium. The increase for 2002 will be 0.4 percent, according to Steve Zekoff, communications officer for GCFA.

Three of the general funds received an increase in support. The biggest of the seven funds, World Service, received a 5 percent increase for its work supporting the church's program agencies. The Interdenominational Cooperation Fund had a 28.7 percent increase, and the General Administration Fund saw a 12.9 percent increase.

Receipts for the four other funds decreased slightly. The Africa University Fund, supporting the United Methodist-related school in Zimbabwe, decreased 1.1 percent, and the Black College Fund dropped 1.6 percent. Giving to the Ministerial Education Fund was down 0.8 percent, and support for the Episcopal Fund dropped 1.0 percent.

Total giving for all general funds, including the apportioned ones, reached $171.3 million, up from $153.9 million during 2000.

The United Methodist Committee on Relief (UMCOR) received $32 million of the giving beyond the apportioned funds. The $17.5 million for "Love in the Midst of Tragedy" accounted for more than half of the giving to UMCOR, which is administering the money.

Giving to all of the denomination's Advance Specials, which include "Love in the Midst of Tragedy," was $49.2 million. Other denominational outreach funds collected $807,396 in special gifts.

United Methodists also gave more to support the church's six Special Sunday offerings, sending that total figure up 7.5 percent to $6.7 million.

Fourteen annual conferences paid 100 percent of their general fund apportionment: Baltimore- Washington, Central Pennsylvania, Desert Southwest, Detroit, Kansas West, Minnesota, Northern Illinois, North Texas, Oklahoma Indian Missionary, Peninsula-Delaware, Red Bird Missionary, Western Pennsylvania, West Michigan and Wisconsin. That number is a slight decrease from the year before, when 16 conferences paid all of their apportionments. Another six conferences paid 100 percent of their World Service commitment: Illinois Great Rivers, West Ohio, Troy, Oklahoma, Rio Grande and North Carolina. The autonomous Iglesia Metodista de Puerto Rico also paid 100 percent of its voluntary participation in the United Methodist Church's general funds.

The United Methodist Church has about 8.4 million U.S. members and more than 1 million additional members in Europe, Africa and Asia.

Coming in a future issue of The Call: a report on Holston Conference giving in 2001.

---
February 15, 2002 Issue
District Roundup
A new section, loaded with news from each of the conference's 12 districts.
Page 8

Citizen Shane A question-and-answer session with the controversial speaker of Resurrection 2002.
Page 4

Hospitality 101 How First Broad Street United Methodist Church came to be one of the denomination's top 10 welcoming congregations.
Page 5

Left Behind "Yes, I fret a lot about being left behind," writes Bishop Ray Chamberlain. "I wonder about God being active outside my comfort zone. I worry that I could be left behind where God is at work because of my preconceived ideas."
Page 2

National & World News

Unless otherwise noted, all articles written by Annette Spence Bender
The Call Available in Bulk Quantities

We've hoped for some time to offer subscriptions to The Call, Holston's newspaper, in bulk quantities for churches who wish to place them in the Narthex, bulletins, Sunday School classes, etc. Subscriptions are available in quantities of 50, 100 and 200 copies at a significantly reduced rate. For more information, please contact Annette Bender, editor of The Call, at
TheCall@holston.org.

--------------------

Accessing PDF documents on this site:


1. You must have a newer version of the free Adobe Acrobat® Reader to open and print these files.

2. Download the file to your computer by right clicking on the PDF link. You should have no problem opening the file after downloading it this way.

3. Click on the print icon. Select "print as image." Click on "Expand pages to paper size" if necessary. Click "OK" to print.

4. Adobe makes available "Printing Tips" for troubleshooting problems.