Cover Stories:
Ministers' Convocation
and
Bishop names Wilson for Maryville District

INSIDE

Scope's monkey trial
Eloise Reed, 93, a member of First Dayton UMC, is among the last living witnessess to the 1925 "Scopes Monkey Trial."

Watch this
Seymour UMC of Maryville District is one of our "12 Churches to Watch."

Got health?
Don't miss the "Holston Churches Building Healthy Communities" seminar on April 6.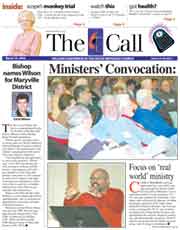 Bishop Swanson's Column

Eventuality

Job Opportunities


Unless otherwise noted, all articles written by Annette Spence Bender