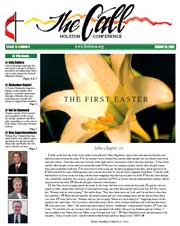 ---
Cover Story
The First Easter

John Chapter 20

1 Early on the first day of the week, while it was still dark, Mary Magdalene came to the tomb and saw that the stone had been removed from the tomb. 2 So she ran and went to Simon Peter and the other disciple, the one whom Jesus loved, and said to them, "They have taken the Lord out of the tomb, and we do not know where they have laid him." 3 Then Peter and the other disciple set out and went toward the tomb. 4 The two were running together, but the other disciple outran Peter and reached the tomb first. 5 He bent down to look in and saw the linen wrappings lying there, but he did not go in.

6 Then Simon Peter came, following him, and went into the tomb. He saw the linen wrappings lying there, 7 and the cloth that had been on Jesus' head, not lying with the linen wrappings but rolled up in a place by itself. 8 Then the other disciple, who reached the tomb first, also went in, and he saw and believed; 9 for as yet they did not understand the scripture, that he must rise from the dead. 10 Then the disciples returned to their homes.

11 But Mary stood weeping outside the tomb. As she wept, she bent over to look into the tomb; 12 and she saw two angels in white, sitting where the body of Jesus had been lying, one at the head and the other at the feet. 13 They said to her, "Woman, why are you weeping?" She said to them, "They have taken away my Lord, and I do not know where they have laid him." 14 When she had said this, she turned around and saw Jesus standing there, but she did not know that it was Jesus. 15 Jesus said to her, "Woman, why are you weeping? Whom are you looking for?" Supposing him to be the gardener, she said to him, "Sir, if you have carried him away, tell me where you have laid him, and I will take him away."

16 Jesus said to her, "Mary!" She turned and said to him in Hebrew, "Rabbouni!" (which means Teacher). 17 Jesus said to her, "Do not hold on to me, because I have not yet ascended to the Father. But go to my brothers and say to them, ÔI am ascending to my Father and your Father, to my God and your God.'" 18 Mary Magdalene went and announced to the disciples, "I have seen the Lord"; and she told them that he had said these things to her. (NRSV)

Easter Sunday Is March 31, 2002.
---
March 29, 2002 Issue
Holy Rollers
Out of the pulpit and onto the pavement, a group of Holston preachers are taking their bikes out to raise money for Retired Ministers Sunday.
Pages 4 & 5

Zimbabwe Report
A United Methodist church is taking a stand against Zimbabwe's economic hard times through a Shalom Zone program that gives people the means to support their families.
Page 6

Not So Bummed
Despite reports of low morale, most members of the clergy are deeply satisfied with their jobs, according to a new survey from Duke University Divinity School.
Page 7

New Superintendents
Bishop Ray Chamberlain has named three new district superintendents for the Knoxville, Maryville and Wytheville Districts, effective in June.
Page 3

Bishop's Perspective

National & World News

Unless otherwise noted, all articles written by Annette Spence Bender
The Call Available in Bulk Quantities

We've hoped for some time to offer subscriptions to The Call, Holston's newspaper, in bulk quantities for churches who wish to place them in the Narthex, bulletins, Sunday School classes, etc. Subscriptions are available in quantities of 50, 100 and 200 copies at a significantly reduced rate. For more information, please contact Annette Bender, editor of The Call, at
TheCall@holston.org.

--------------------

Accessing PDF documents on this site:


1. You must have a newer version of the free Adobe Acrobat® Reader to open and print these files.

2. Download the file to your computer by right clicking on the PDF link. You should have no problem opening the file after downloading it this way.

3. Click on the print icon. Select "print as image." Click on "Expand pages to paper size" if necessary. Click "OK" to print.

4. Adobe makes available "Printing Tips" for troubleshooting problems.