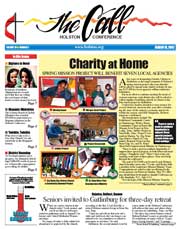 ---
Cover Story
Charity at Home
SPRING MISSION PROJECT WILL BENEFIT SEVEN LOCAL AGENCIES
After years of designating Estonia, Liberia or Zimbabwe as the single recipient of Holston's spring mission project, this year churches will be asked to spread some charity at home by raising $125,000 for seven agencies within conference boundaries.

But in an effort to continue meeting the needs of overseas missions, each district also will be asked to collect supplies benefiting schools in Liberia or the Ishe Anesu project in Zimbabwe.

Conference leaders decided to raise money for several domestic missions this year after considering the state of the nation's economy and needs within the region, said Bill Daugherty, Holston missions coordinator.

The beneficiaries include The Bethlehem Community Center in Chattanooga; Wesley House Community Center in Knoxville; Morgan-Scott Project in Deer Lodge, Tenn.; Jubilee Project in Sneedville, Tenn.; Project Crossroads in Marion, Va.; Big Stone Gap District Church & Community Renewal Project in Big Stone Gap, Va.; and St. Elmo/ Alton Park Empowerment Ministry in Chattanooga.

"There is such a need in southern Appalachia to support these special projects, in both urban and rural settings," Daugherty said. "There's been some outstanding work done in these places. They need help through the conference."

The goal of $125,000 can be met if each Holston church member gives only 75 cents, said Becky Hall, a member of the conference Mission Ministry Team. Congregations are asked to take an offering for the seven agencies on Pentecost Sunday, May 19. Offerings should then be brought to Annual Conference in Lake Junaluska, N.C., June 9-12.

"It is the hope of the Mission Ministry Team by featuring these agencies that all of the Holston members will learn of the enormous impact they are having on people's lives," Hall said.

This month, district offices will receive information about hands-on mission kits for collecting prior to Annual Conference, Daugherty said.

Districts in the northern part of the conference -- Kingsport, Johnson City, Abingdon, Big Stone Gap, Tazewell, Wytheville – will stock teacher supply kits for Liberia. Designated for 1,200 teachers in 120 different schools, the kits will include items such as chalk, calculators, notebooks and deodorant.

Districts in the southern part of the conference will collect clothing, food or medical supplies for the Ishe Anesu project in Zimbabwe. Oak Ridge and Morristown will gather items such as cough syrup, bandages and toothbrushes. Knoxville and Maryville will load buckets with powdered milk, rice, dried beans and other cooking supplies. Cleveland will collect boys' clothes, while Chattanooga will collect girls' clothes.

Each district will have a central location where local churches may drop off their assigned kits. On June 7, conference leaders will collect all goods and transport them to Annual Conference in North Carolina before shipping them overseas.

A 20-minute video promoting the seven in-conference agencies will soon be available to district offices for viewing by local church members, Daugherty said.

"We're trying to share with families in our region what we've been sharing with people in other countries over the last few years," he said.
---
March 15, 2002 Issue
Afghans in Need
Residents of northern Afghanistan are in such need that they are selling the roof beams of their homes to raise money for food.
Page 7

Hispanic Ministries
The General Board of Global Ministries has awarded $50,000 in grant money to Hispanic ministries in the Holston Conference.
Page 4

Twinkle, Twinkle
What does it take to be a Five-Star Church? Go ask somebody in the Kingsport District.
Page 5

District Roundup
A Cleveland minister gives up gravy. An Abingdon church bags $188,000 worth of groceries. A Knoxville congregation goes rolling for dollars.
Page 8

Bishop's Perspective

National & World News

Unless otherwise noted, all articles written by Annette Spence Bender
The Call Available in Bulk Quantities

We've hoped for some time to offer subscriptions to The Call, Holston's newspaper, in bulk quantities for churches who wish to place them in the Narthex, bulletins, Sunday School classes, etc. Subscriptions are available in quantities of 50, 100 and 200 copies at a significantly reduced rate. For more information, please contact Annette Bender, editor of The Call, at
TheCall@holston.org.

--------------------

Accessing PDF documents on this site:


1. You must have a newer version of the free Adobe Acrobat® Reader to open and print these files.

2. Download the file to your computer by right clicking on the PDF link. You should have no problem opening the file after downloading it this way.

3. Click on the print icon. Select "print as image." Click on "Expand pages to paper size" if necessary. Click "OK" to print.

4. Adobe makes available "Printing Tips" for troubleshooting problems.