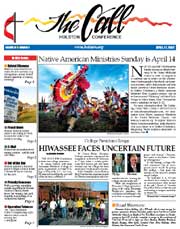 ---
Cover Story
Native American Ministries Sunday is April 14

NATIVE AMERICAN Ministries Sunday became an official observance of the United Methodist Church in 1988. Its purpose is to celebrate and to reflect on the contributions of native people to the church and American societies, and to help educate and train Native American United Methodist leaders. In Holston Conference, a Native American Ministries Team organizes mission trips as well as its annual "Gathering" at Coker Creek Village in Tellico Plains, Tenn. This year the event is scheduled for Sept. 21-22.

For more information about The Gathering, contact Vicki Collins at (865) 435-0100 or wahoohoospirit@yahoo.com. For information about Native American Ministries in the United Methodist Church, visit www.naco.umcom.org. To support Holston's Native American ministries, make checks to your local church or to Holston Conference, designating "Native American Awareness" on the memo line.


---
April 12, 2002 Issue
Bristol Dilemma
What's a local church to do when 150,000 race fans clog the highways around Bristol Motor Speedway on Sunday morning?
Page 4

Flood News
Holston workers in three districts are calling for work teams in the wake of last month's flooding.
(See Newsflash)

C-Mail
Notes from our readers about racism, content and the lack of C-Mail.
Page 2

Out of the Box
Holston appoints a full-time pastor to begin a church inside a Knoxville rescue ministry for the poor.
Page 3

Priestly Concerns
With a growing pedophilia scandal engulfing the Roman Catholic Church, priests know that wearing their garb in public is something of an occupational hazard.
Page 6

Operation Tobacco
The United Methodist Church's longstanding opposition to tobacco use is moving into a new phase.
Page 7

Bishop's Perspective

National & World News

Unless otherwise noted, all articles written by Annette Spence Bender
The Call Available in Bulk Quantities

We've hoped for some time to offer subscriptions to The Call, Holston's newspaper, in bulk quantities for churches who wish to place them in the Narthex, bulletins, Sunday School classes, etc. Subscriptions are available in quantities of 50, 100 and 200 copies at a significantly reduced rate. For more information, please contact Annette Bender, editor of The Call, at
TheCall@holston.org.

--------------------

Accessing PDF documents on this site:


1. You must have a newer version of the free Adobe Acrobat® Reader to open and print these files.

2. Download the file to your computer by right clicking on the PDF link. You should have no problem opening the file after downloading it this way.

3. Click on the print icon. Select "print as image." Click on "Expand pages to paper size" if necessary. Click "OK" to print.

4. Adobe makes available "Printing Tips" for troubleshooting problems.